This year's Cheltenham Literature Festival will take place from 7 to 16 October, presenting a diverse 10-day program of activities and events with leading figures of the world's literary scene.
The Cheltenham Literature Festival will host a series of events — Ukraine Day — by the International Book Arsenal Festival co-curated with the Cheltenham Literature Festival. The Ukraine Day program is a part of the UK/Ukraine Season of Culture supported by the British Council and the Ukrainian Institute.
Ukraine Day will take place on October 11, presenting 5 events that will strengthen the voice of the Ukrainian literary scene. Among the Ukraine Day events are the following: a conversation with Oksana Zabuzhko, an art workshop by Romana Romanyshyn and Andriy Lesiv, a musical and poetic performance by Grigory Semenchuk, Lyuba Yakimchuk, Irena Karpa and Yuriy Gurzhy, as well as a conversation with Kateryna Iakovlenko, and a discussion joined by Lyuba Yakimchuk and Olesya Khromeychuk.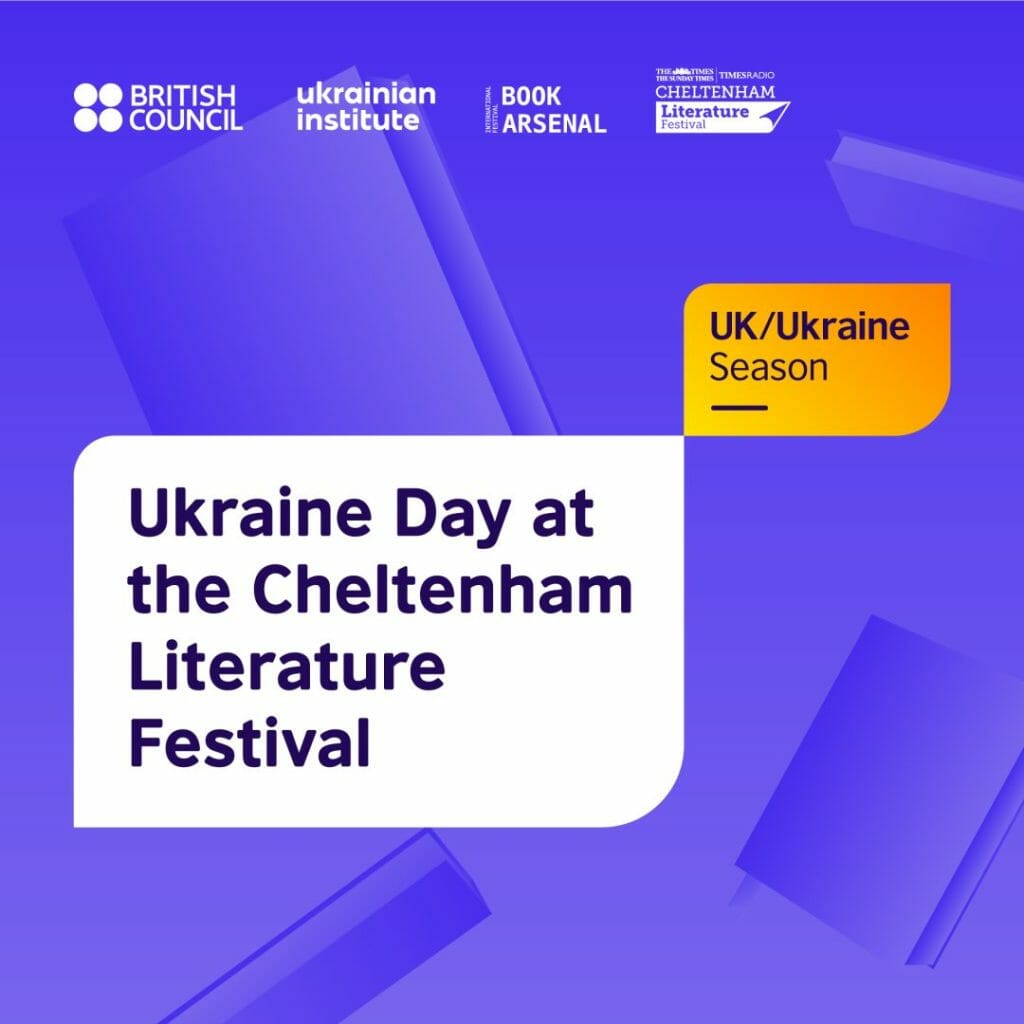 More about the events:
Oksana Zabuzhko: My Longest Book Tour — 12-1pm
Oksana Zabuzhko was on a book tour in Poland when she learned that Russian missiles had struck her home city of Kyiv. In conversation with Rosie Goldsmith, she offers unprecedented insights into a moment which may define the future of Europe.
Oksana Zabuzhko is a prize-winning Ukrainian author and public intellectual.
When War Comes to Your Home – 2-3pm
When war arrives in your city, destroying your home, scattering your loved ones, and drafting your relatives and friends to fight, what do you do?
Lyuba Yakimchuk and Olesya Khromeychuk will offer their answers to these questions in conversation with Georgina Godwin.
Lyuba Yakimchuk is a poet, playwright, and scriptwriter. Lyuba is the author of several full-length poetry collections. Her poems have been translated into more than twenty languages.
Olesya Khromeychuk is an author, historian, and researcher of Central and Eastern Europe. She is the Director of the Ukrainian Institute in London.
Romana Romanyshyn and Andriy Lesiv: Create a Canvas — 4.15-5.15pm
War has come to the idyllic town of Rondo. Can three gentle but brave friends stop War's destruction and save their beloved home? Romana Romanyshyn and Andriy Lesiv created How War Changed Rondo as a tribute to peace, resistance and hope. Join them for a short storytelling session followed by an art workshop where you'll help create a canvas inspired by themes from the book.
Romana Romanyshyn and Andriy Lesiv (Studio Agrafka), a husband-and-wife creative duo from Ukraine, are book authors, designers and illustrators, members of PEN Ukraine.
Ukrainian songs of love and hate — 7-8pm
"This machine kills fascists" was written on the guitar of Woody Guthrie, an American folk singer from the 1950s. "These songs kill Russian fascists (rushists?)" could be a subtitle of this project, developed and produced in 2022 between Ukraine, Germany and Austria.
Joining forces with a Berlin-based musician and producer Yuriy Gurzhy to create a brutal soundtrack of this year are Ukrainian poets Grigory Semenchuk (and his hip hop alter ego BRAT) and Lyuba Yakimchuk as well as musician and writer Irena Karpa.
Curated by Oksana Shchur.

Grigory Semenchuk is a poet, musician, and culture manager. He is the author of three poetry books, and a member of musical projects "BRAT", "LANDSCHAFT" and "DRUMTYATR".
Lyuba Yakimchuk is a poet, playwright, and scriptwriter. Lyuba is the author of several full-length poetry collections. Her poems have been translated into more than twenty languages.
Irena Karpa is a writer, scriptwriter, and author of numerous books. She is a singer and frontwoman of the QARPA band. Karpa is a curator of literary and art projects.
Yuriy Gurzhy is a musician, producer, composer, and DJ. He is the frontman of the band RotFront.
Ukraine on Screen — 8.30-11pm
Guest Curator Clarisse Loughrey is joined by Visual Culture Researcher Kateryna Iakovlenko for an introductory conversation ahead of the first UK screening of the producer's cut of her award-winning film Bad Roads (2020).
Natalka Vorozhbyt is a playwright, screenwriter, director, and curator of theatre and social projects. Natalka Vorozhbyt is the winner of the Taras Shevchenko National Prize (2022) for her play Bad Roads, and the Oleksandr Dovzhenko State Prize for her contribution to cinematography (2021).
Kateryna Iakovlenko is a visual art researcher and writer. She is ADB in New Media and Communication. Her current research touches upon the role of art and culture during political transformation and war.