Mystetskyi Arsenal takes care of your health and safety during the Book Arsenal Festival. To prevent the spread of COVID-19 and for the safety of all the participants, visitors and employees of Mystetskyi Arsenal, we will:
Introduce online time-slot ticketing.
Monitor the participants, employees and visitors' compliance with the face mask requirements.
Carry out temperature screening of everyone who enters the territory of Mystetskyi Arsenal.
Provide sanitizers, as well as disinfectants in WCs, on the territory of Mystetskyi Arsenal.
Control the number of visitors within the Old Arsenal building during the fair and festival events, so as to prevent crowds from gathering. To do this, we will place tensators (barrier tapes) at the entrances and exits.
Open an additional entrance and exit from Tsytadelna Street.
Move the Kids fair section to the yard in order to secure the youngest visitors of the Festival as much as possible.
Regularly clean and disinfect the premises of the Old Arsenal building.
Set aside a special visiting hour for the elderly. Please read more on the page Working hours.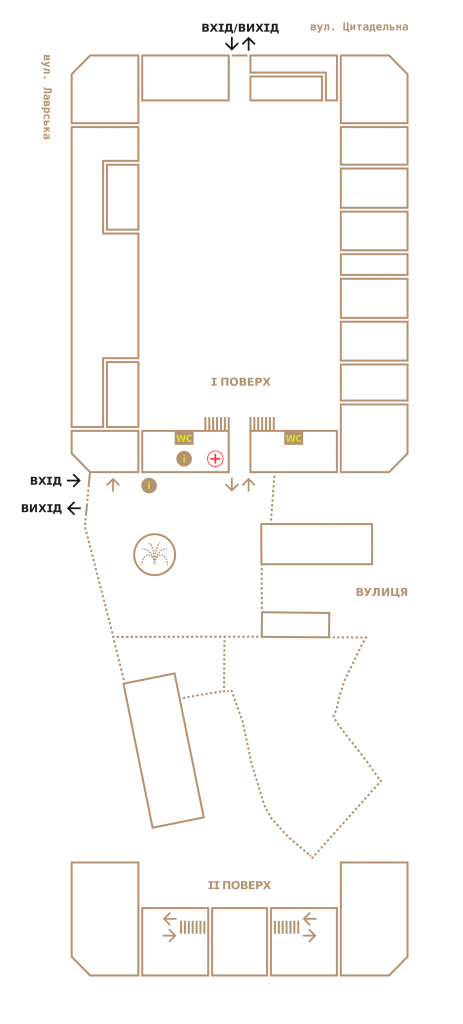 Doctors are going to provide services at Mystetskyi Arsenal during all the Festival days. You will be able to get help by applying to the Medical Station at the point of entrance of the left wing of the Old Arsenal building or any information desk inside or outside Mystetskyi Arsenal.
Safety is our joint responsibility, so please follow the following rules and guidelines.
come to a particular time slot: choose the most convenient time for you in the Festival program.

use respirators or masks throughout your stay at Mystetskyi Arsenal;

use disinfectants available at the point of entrance of the Old Arsenal building, in WCs, at food courts and publishing house stands;

follow the recommended distance (1.5 meters) between visitors during the Festival: take care of yourself and people around you when standing in line for an autograph, book or coffee;

follow the recommendations on the signs and in case you are approached by responsible persons;

avoid and do not gather a crowd: do not worry, you will have time for everything, and it is not necessary to be the first in the crowd;

disinfect your hands before and after viewing books or use gloves: remember that you are not alone at the fair;

if possible, use non-cash payment: it is safer as well as much more convenient;
In order to prevent gathering of large numbers of visitors in particular areas of the Festival, the Festival staff may temporarily restrict access to these areas.
We want your stay at the International Book Arsenal Festival to be pleasant and comfortable. Let's take care of ourselves!
Questions
We would appreciate your feedback if you have any questions. Please contact us by phone or write to us at: